The Best Sunglasses Brands for 2020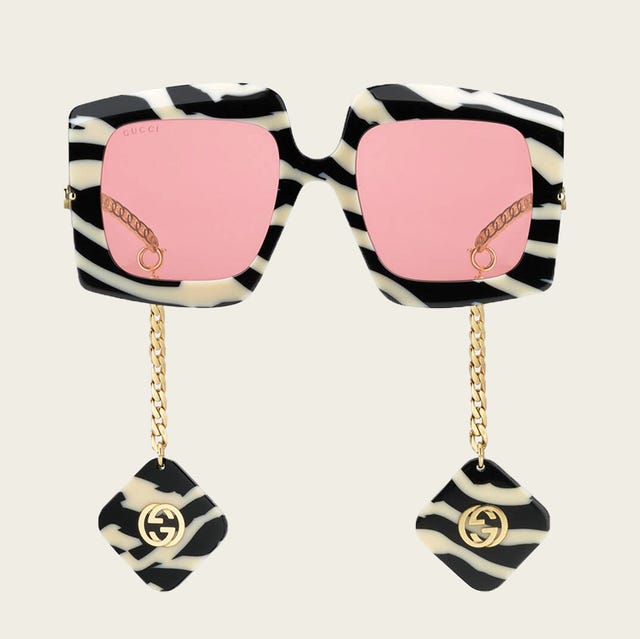 Courtesy
Summer is on the horizon, which means social distancing in our best bikinis, little white dresses, and of course, sunglasses. While we'll always love classic styles from Ray-Ban and Celine, there are new brands on our radar that you should be paying attention to. Indie designers are making styles unlike any other, socially conscious companies are giving back to the community in major ways, and Rihanna dropped a new collection of sunglasses today that you're about to see everywhere.
Read on for the 22 sunglass brands that make summer selfies infinitely better, here.
1 of 22
Fenty
Off Record Sunglasses
One word: Rihanna. Her designer label Fenty just dropped a sunglass collection today, and yes, everyone is scrambling to buy a pair. 
2 of 22
Ray-Ban
ray-ban
sunglasshut.com
$142.80
There's nothing more classic than a pair of Ray-Bans (especially the Wayfarer and Aviator styles). And since they're the type of sunglasses that will never go out of style, you'll never regret the purchase.
3 of 22
Komono
Ana Tortoise
Most pairs of Komono's sunglasses clock in around $60, but everyone will be asking where you got them.  The Belgian brand's styles look way more expensive than they actually are. 
4 of 22
Aperçu
Alyssa Sunglasses
Aperçu
apercueyewear.com
$365.00
Aperçu's mission is to constantly evolve the brand by collaborating with top creators to design new sunnies. Influencer Alyssa Coscarelli's line sold out instantly, so make sure to check back to cop this pair. 
5 of 22
Le Specs
Smoochy Sunglasses
Le Specs
lespecs.com
$89.00
Le Specs' collaboration with Adam Selman is all all over the internet. You could buy yet another pair of the cult-favorite cat eyes, or try something completely different with this wavy take on skinny sunglasses. 
6 of 22
Marc Jacobs
The Strass Cat Eye Sunglasses
Marc Jacobs
marcjacobs.com
$220.00
No need for another basic black pair? Try Marc Jacobs. Specifically, try this rainbow bejeweled pair that's selling out everywhere. 
7 of 22
Quay
High Key 62mm Aviator Sunglasses
Quay
nordstrom.com
$48.75
Jennifer Lopez may not remember what happened to the sunglasses she had in Love Don't Cost a Thing, so the next best option is her collab with Quay. The range looks exactly like it should: 100% glam. In case you missed the drop, these aviators with over 1,000 positive reviews will do. 
8 of 22
Oliver Peoples
The Row L.A.
Oliver Peoples
oliverpeoples.com
$471.00
For retro styles that still feel new, look to Oliver Peoples. The Los Angeles brand reimagines '70s shapes for a 2020 woman and is made with the highest quality materials. Its ongoing collab with The Row reliably churns out it-sunnies every season. 
9 of 22
Crap Eyewear
The Supa Phreek
Crap Eyewear
crapeyewear.com
$79.00
Crap Eyewear is far from its namesake. This Insta-loved brand reissues new prints and colors of their bestsellers, including this universally flattering pair. 
10 of 22
Loewe
Paula's Ibiza Original Sunglasses In Acetate
For fashion insiders, Loewe frames are not to be missed. They take classic silhouettes and update them with a quirky twist. The brand's new Paula's Ibiza collection include this modular pair reminiscent of Kartel furniture.  
11 of 22
Gucci
Square Sunglasses with Charms
Leave it to Gucci to create some of the most coveted sunglasses year after year. The brand's head-turning styles never disappoint. Case in point, these sunglasses come with their own accessory. 
12 of 22
Poppy Lissiman
Dream Lover Sunglasses
Poppy Lissiman
poppylissiman.com
$125.00
Poppy Lissiman made waves in 2016 for spear-heading the skinny frame trend, but the Australian designer is evolving for the better. Her latest collection expanded into bags and jewelry, and these butterfly frames let you live out your best, Mariah Carey-inspired life. 
13 of 22
Alexander McQueen
Jeweled Beetle Hexagonal Sunglasses
Alexander McQueen
alexandermcqueen.com
$680.00
These tinted, bejewled sunglasses are giving us major 2000s vibes. 
14 of 22
Bottega Veneta
Originals Cat-Eye Acetate Sunglasses
Bottega Veneta
modaoperandi.com
$440.00
File Bottega Veneta's sunglasses along with the rest of the brand's accessories: timeless yet refreshingly modern and worn by the most stylish people you know. 
15 of 22
DIFF
Carson sunglasses
DIFF
diffeyewear.com
$109.00
In just four years, Diff Eyewear has provided glasses to over 1.5 million in need. A portion of the sales made from every single pair helps provide eye exams, surgery, and more. The fact that their sunglasses are really cute is just a sweet bonus. 
16 of 22
Garrett Leight
Shaded and Faded Kit
Garrett Leight x Pure Beauty
garrettleight.com
$550.00
Garrett Leight California Optical has been making beautiful sunglasses for a decade, but its recent collab with Pure Beauty is a new high. Available to California customers only, this kit includes ten pre-rolled joints to get faded in the sun. 
17 of 22
Celine
Polarized Square Sunglasses
Celine
nordstrom.com
$450.00
No matter how many sunglasses I own (it's an embarassing count), I still reach for my Celines day after day. Invest today, own them for life. 
18 of 22
Feroce
claudine
Feroce
feroceeyewear.com
$110.00
Timeless shapes and designer materials at a little over $100? That's what Féroce is bringing to the table. Launched in 2019, look to them for solid basics that will last a lifetime. 
19 of 22
Warby Parker
Tilson
Warby Parker
warbyparker.com
$95.00
With its philanthropic "buy one, give one" business model and super stylish frames, it's easy to support Warby Parker. 
20 of 22
Ahlem Eyewear
Place d'Aligre
Ahlem Eyewear
ahlemeyewear.com
$490.00
Designer Ahlem Manai-Platt is a French-born, Los Angeles-based designer, and her label embodies just that: a mix of Parisian chic with west coast cool. The brand is also backed by Beyoncé.
21 of 22
Tongue Sunglasses
Raen
raen.com
$90
Raen makes luxury-grade sunglasses for a fraction of the price. You can these unisex styles with your significant other, too.
22 of 22
Saint Laurent
SL 11 Aviator Sunglasses
Saint Laurent
ysl.com
$405.00
All aviators are not created equal. One of the best silhouettes is made by Saint Laurent, whose slanted style compliments round-shaped faces, a rare feat. 
Advertisement – Continue Reading Below
This content is created and maintained by a third party, and imported onto this page to help users provide their email addresses. You may be able to find more information about this and similar content at piano.io