7 ways to bring more customers to your carpenter company
It's nearing the end of the month. You've just finished up a big job and your schedule for next month looks pretty light. We both know that running a carpenter company means you need a steady supply of jobs to stay afloat.
Sure, you might have a few gigs here and there, but you'd really love to be booked up months in advance. This isn't a pipe dream. In fact, it could be your reality if you make it easy for people to find you.
The old ways of doing business are behind us. Today's customers turn to the internet before making almost any decision, and this includes hiring a carpenter. To bring in a steady supply of new jobs to your carpenter company, you need to use the internet to your advantage.
Below you'll learn what you can do to help your business show up in the local search results when people are looking for the exact services you offer.
Get more carpentry jobs with these 7 tips
Claim your local business listings.

Ask customers to review you online.

Get local backlinks.

Learn about keywords.

Improve your search engine headline and description.

Start a carpentry blog.

Add schema markup to your website.
1. Claim your local business listing
If you haven't claimed your business listings online, then you're missing out on a huge opportunity. Whenever a person searches for a carpenter on Google, the top results are often local business listings.
The biggest and most important business listing is Google My Business. If you only list your business in this one place, you'll be giving yourself a leg up on the other carpentry contractors in your area. Simply claim your business listing and go through the verification process (it may take a week to receive your verification code from Google). Once the process is complete, make sure to add photos and fill out every single detail (hours, phone numbers, service area, etc) in your listing.
To get the most out of local business listings, create pages in the following directories as well:
Make sure all of your information — especially your business name, hours and phone number — is correct. If you've changed any of the three points of information mentioned above, then this needs to be updated everywhere your business is listed.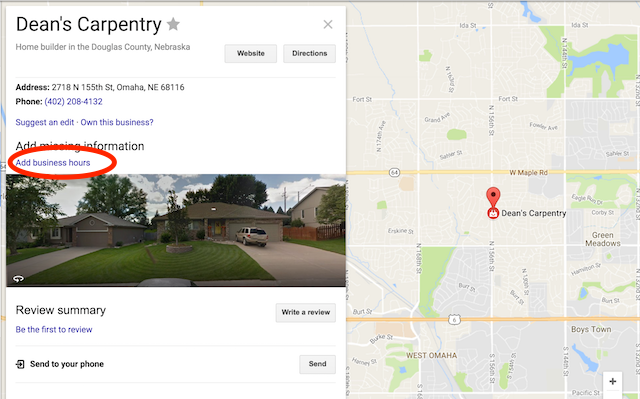 Why not make it easy on yourself?
Next time your phone number or hours change, one click updates your listing on all the popular directories.
Download our free checklist: 5 ways to get more local customers
Get more easy tips like this and check out our checklist below.
2. Ask customers to review you online
Online reviews matter more than you think. In fact, recent research from OMG National states that around "92% of consumers now read online reviews."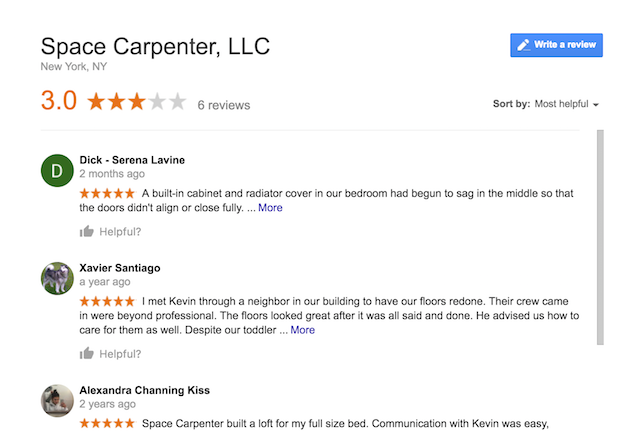 People pay attention to what your customers say about you.
Local reviews help to build a ton of trust in the eyes of your customers. You might have a lot of flattering words to say about your company on your own website, but real-life customer reviews can help to back that up.
It's important you have a system for encouraging local reviews. Even something as simple as asking previous clients and customers to leave you feedback in the form of a Yelp review will often do the trick.
According to Google, having good reviews will improve your business's local visibility, too. Beyond having positive local reviews on sites like Yelp, Google My Business and Facebook, you should also display these reviews on your own website (if you have one).
If you're using WordPress for your website, there are plenty of plugins that allow you to show reviews on your site. And this post walks you through how to set up the WP Customer Reviews plugin on your WordPress site. Just make sure you're only highlighting reviews that will help to build trust.
3. Get local backlinks
If you have a website for your carpenter company, then you can benefit from local inbound links. You get local inbound links (also known as "backlinks") when other websites link to your website. It might be a local hardware store or a home improvement blogger who gives their visitors a link to your website.
The more relevant (plumbing-related) and authoritative links you have leading to your website, the higher it will rank with search engines like Google.
Your goal is to make it to page one of the search results that show when anyone types in "carpenter + "your city" (go ahead — try it).
When it comes to inbound links, both the quality and the "locality" of the source matters. Locality refers to the location of the sites that are linking to your website. For example, a link from your town's Chamber of Commerce is more valuable than a link from your friend who runs a cooking blog from her home on the other side of the U.S.
If you're unsure who to ask for links to your website, try some of the options below:
Look for local industry associations, Chamber of Commerce and other directories focused on your niche or city. Ask them to link to your website (this might require a fee).
Ask any local real estate bloggers or media outlets that focus on local business news and events to link to your website.
Ask any local partner or regular supplier if they wouldn't mind placing a link to you on their business website.
Sponsor a local Little League team or consider creating a locally-based scholarship.
4. Learn about keywords
When a customer wants to find a business like yours, they turn to Google and type in certain keywords, like "carpenter in Reno, NV." If you've spent time working on your search engine optimization (SEO), then your website will rank above your competitors for the very keywords your customers type in when looking for a plumber.
Search engine optimization is a series of steps you can follow, which will let Google know which keywords to rank your site for.
To find these keywords do some initial keyword research. Then follow the steps below to include those keywords in your website:
If you have a shop or other business space, you should also embed a local Google Map on your website that shows where you are.
5. Improve your search engine headline and description
Beyond including the keywords you've found, make sure to also change your site's headline and description to improve its appearance in the search results.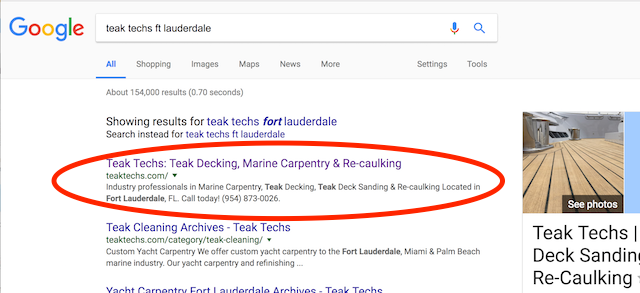 When a potential customer types a carpentry-related search term into Google, the first thing they'll see is a page of search results. To make your site stand out, you need to spend some time writing your title and description (include your top keywords in both). Both of these need to work together to entice visitors to click-through to your site.
To walk the fine line of optimization and intrigue, follow the guidelines below:
Only include relevant information in your title, description and URL.
Include your city name, or business area, if you're trying to reach local customers.
Include a single keyword towards the beginning of your headline, without making it sound awkward.
6. Start a carpentry blog
One way to truly stand out in your local area is to share articles that are helpful to your customers. Writing a steady supply of blog posts — for example, articles on emergency carpentry fixes or furniture refinishing dos and don'ts — takes a lot of work, but the results can be well worth it. If you loathe writing, you can always consider hiring someone to do it for you.
Creating regular blog posts that focus on the needs of your local community can help your carpentry website get more traffic via search engines and impress your local clients.
Writing on a regular basis will provide value to your visitors to encourage them to call, and help build authority so you're seen as the go-to local source.
Plus, you don't always have to write about carpentry for your content to be effective. If you're stuck and can't think of what to write about, try some of the following tips:
Are there any local events in your area you'll be attending, or that generate a lot of local "buzz"? Write a blog post about your experience at the event.
Do you have a unique company story that ties you and your employees to the area?
Are there any common questions you hear again and again from potential customers? Create a list of the most common questions you receive and answer these in detail.
Do you have any in-depth project you recently completed? Create a case study that documents that problem or project your customer had and how you went about completing it.
7. Add schema markup to your website
Schema markup is relatively new in the SEO world, but it's growing in importance. Schema makes it easier for users to find the exact information they're searching for, plus it lets the search engines more easily understand your site. A win-win for both you and your customers.
You can add schema markup to any reviews you might have, your business information, NAP (name, address, phone) — even the services you offer. To use schema on your website you can install a plugin like Schema, if you're using WordPress. If you're not using WordPress, you can use tools like Google's Structured Data Markup Helper or the Schema Creator to generate HTML code you paste directly into your header.
Another benefit of using schema is most of your competitors won't be using it this early in the game, which gives you an advantage. To double-check if you're using schema correctly you can use a tool from Google called the Structured Data Testing Tool.
Generating a steady supply of customers for your local carpenter company is all about letting the internet work for you. U.S. carpenters have one of the highest employment rates among construction jobs, so future prospects are bright. Use the tips above and soon you'll find you're booked up well in advance of your next mortgage or rent payment.
Image by: a target="_blank" href=http://unsplash.com/photos/iXV0i4Wo4yc?utm_source=unsplash&utm_medium=referral&utm_content=creditCopyTextIgor Ovsyannykov on Unsplash