22 Under the Radar Lingerie Brands To Shop Now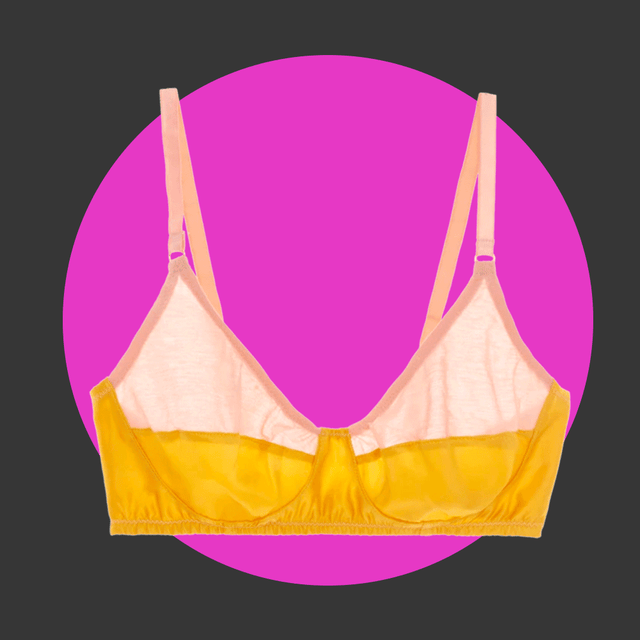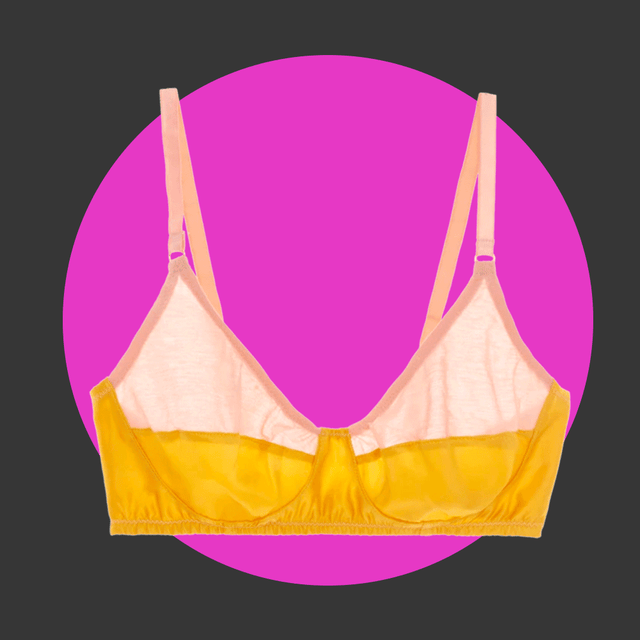 Courtesy
An outfit isn't complete (or can start, really) without the most essential clothing in your wardrobe: undergarments. It lays the closest to your skin, gets buried under bulky layers, and can truly make or break your day (ever tried to subtly pick an embarrassing wedgie?). Every now and then a lady deserves to revamp her lingerie drawer with a fresh batch of racy, lace goodies, and we found the best options.
Being in self isolation for what seems like forever has given us a break from wire-digging bras but there's no better time to stock up on delicate, demure, and over-the-top underthings. Whether you're dressing up for OnlyFans or only you, here are 22 lingerie brands to put on your radar.
1 of 22
Yasmine Eslami
Lily Triangle Bra
Yasmine Eslami creates lingerie with comfort, functionality, and ease in mind, made in quirky colors from fine German tulle. 
2 of 22
Mary Young
Kendi Bra
With an emphasis on self-love and acceptance, Mary Young designs minimalist pieces that takes the "sexy" element of traditional lingerie and marries it with everyday silhouettes. Plus, it's ethically made from organic bamboo material.
3 of 22
Third Love
Lace Back Cheeky
Third Love not only makes lightweight, pain-free undergarments, but its bras are best-sellers thanks to its half-cup sizing.
4 of 22
Love, Vera
Kai Snake Print Eyelash Lace Set
Love, Vera's priority is ensuring all women feel sexy, celebrated, and loved when wearing its pieces, without breaking the bank. 
5 of 22
Araks
Willow Bralette Calcite
Araks is conscious, colorful, and comfortable. The minimalist brand offers everyday pieces in vibrant colorways and wire-free bras that feel like a second skin. 
6 of 22
Savage X
Neon Nights Bralette
"Average," "basic" or "normal" aren't words anyone would associate with Rihanna's other brainchild, Savage X. Each new drop is dipped in every color, print, and lace possible.
7 of 22
True&Co.
Soft Lace Unlined Balconette Bra
True&Co. is the lingerie brand you'll never want to take off (though you should because…hygiene). Founded in 2012, True&Co. prioritizes fit and comfortability by designing pieces using its signature buttery-soft fabric.
8 of 22
Inamorata
Crosby Bralette
inamoratawoman.com
$38.00
The Emily Ratajkowski-owned label started off as swimwear only before branching off into intimates. Featuring soft silhouettes and neutral tones (save for this happy neon green bra), the collection was designed to make women feel comfortable running to the "corner bodega and everywhere else in between."
9 of 22
Tylynn Nguyen
Rose Panty
Tylynn Nguyen's luxurious, well-designed collection adds a bit of edge and allure to everyday basic silhouettes. Each piece was inspired by Paris and made of fine fabrics, from French lace to silk charmeuse.
10 of 22
Maiki
The Kiku Bralette
The Australian luxury lingerie brand creates simple, delicate and sexy lace pieces that you'll want to show off.
11 of 22
Intimissimi
Pretty Flowers Baby-Doll
Intimissimi has a wide selection of intimates to cater to your bedroom desires, no matter your lingerie expertise level. Just getting started? Intimissimi's slip dresses and bodysuits come in romantic lace fabrics and colors. But if you're ready to take it up a notch, dive into the site's extensive collection of lace bras, corsets, and garter belts.
12 of 22
Dora Larsen
Lucia Underwire Bra
Lingerie shouldn't be limited to red and black. At Dora Larsen, sexy lace bras are dipped in a sugary palette of yellow, blue, pink, orange, and more, with cuts that range from deep, triangle-cut bras to high-waisted cut-out panties.
13 of 22
Fleur Du Mal
Monet Embroidered Balconette
Thanks to Fleur du Mal, undressing just got a whole lot better. Its signature provocative styles (I'm talking strappy bondage bra and panty sets and bodysuits) and soft satin pieces will be the WOW piece of your lingerie drawer and will make you feel sexy, even under your everyday staples.
14 of 22
Hopeless Lingerie
Bodysuit
hopelesslingerie.com
$245.00
There are simple, cute lingerie, and then there's Hopeless Lingerie, designed for the woman who likes "horror movies and heavy metal and midnight snacks." Hopeless Lingerie features the brand's trademark strappy, cut-out details in sexy mesh textures and colors.
15 of 22
Playful Promises
Peek & Beau Brandy Harness Brief
playfulpromises.com
£17.50
Peek & Beau is the equally naughty little sister of Playful Promises. Peek & Beau is tailor made for those with bold personalities who aren't afraid of cut-outs, fishnets, and lots of mesh.
16 of 22
Eberjey
Anouk Classic Lace Bralette
Eberjey's gorgeous lineup of delicate intimates is almost too good to wear. Bras are the first things you're dying to take off when you walk into your home, but not these. The brand's pretty fabrics are cut and trimmed into comfy bras and panties that can take you from casual to dramatic.
17 of 22
Lonely Label
Shelby Longline Bra
Made for "women who wear lingerie as a love letter to themselves," Lonely Label offers styles that are comfortable, light, and colorful. In between neutral-toned pieces, you'll find pops of color (green, yellow, pink), for those who like their lingerie to match their everyday moods.
18 of 22
Only Hearts
Coucou Lola Plunge Teddy
Launched in 1978, founder Helena Stuart set out to design "inner outerwear:" in other words, lingerie that was designed to be shown off to the world. Only Hearts gives customers an excellent mix of lace bodysuits, bras, panties, and teddys in luxe fabrics and silhouettes.
19 of 22
Else Lingerie
Arya Chemise
Else Lingerie is a collection of elevated intimate staples. Sure, you can wear the brand's fan-favorite lace bras and panties, or you can spice up your lingerie collection by adding a sheer chemise or fitted slip dress.
20 of 22
I.D. Sarrieri
Midnight Dream Brief
In search of the creme de la creme of your lingerie draw? Look no further than I.D Sarrieri. You can't pull out I.D Sarrieri for just anyone. This is top-notch, splurge-worthy intimate wear that will stand the test of time and should be reserved for someone whose love will do the same.
21 of 22
Fleur of England
Wallflower Embroidered Balcony Bra
Made of exquisite lace and silk fabrics, Fleur of England makes date night even more special. Khloe Kardashian is a fan of the brand and cradled her pregnant belly in the brand's sexy balcony bra and matching panty in her maternity photoshoot. If it's good enough for Klo, it's good enough for me.
22 of 22
Skarlett Blue
Goddess Chikini Three-Pack
Everyday feels like a special occasion in Skarlett Blue. The lingerie brand prides itself on offering women comfortable lingerie pieces that are designed with supple, soft fabrics and fit each body without hassle.
Advertisement – Continue Reading Below
This content is created and maintained by a third party, and imported onto this page to help users provide their email addresses. You may be able to find more information about this and similar content at piano.io
This commenting section is created and maintained by a third party, and imported onto this page. You may be able to find more information on their web site.